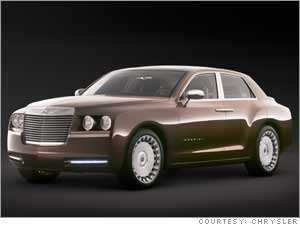 Some are impressed with the Chrysler Imperial concept car unveiled in January this year at the North American International Auto show. From
MercuryNews.com
:
The idea here is to question whether there's space in the Chrysler lineup above and beyond the iconic 300C sedan. The Imperial is a huge, tall car, as in 17 inches longer and six inches taller than a 300. It's an evocative statement similar in its classical stance to such popular Chrysler concepts as the Atlantic from 1995. Most, though, see the current Rolls-Royce Phantom when they see the Imperial concept. (Not coincidentally, many see a Bentley when they see Chrysler's 300 sedan.)

Reaction to the Imperial has been mixed. Dan Lienert on Forbes.com proclaimed it one of the year's 10 coolest concepts and characterized it as ``another stab from Chrysler at bringing sinister looks back into American sedans.'' But Motor Trend wrote that the ``Detroit show reaction can be most charitably described as `lukewarm,' with one wag describing it as a cross between the Rolls Phantom and the Checker Marathon.''"
All I know is, Chrysler seems to be batting 1000 when it comes to cool car design and production. Or maybe it's all in the marketing?
Tags: chrysler imperial, chrysler concept, imperial concept, concept car, chrysler, rolls royce phantom